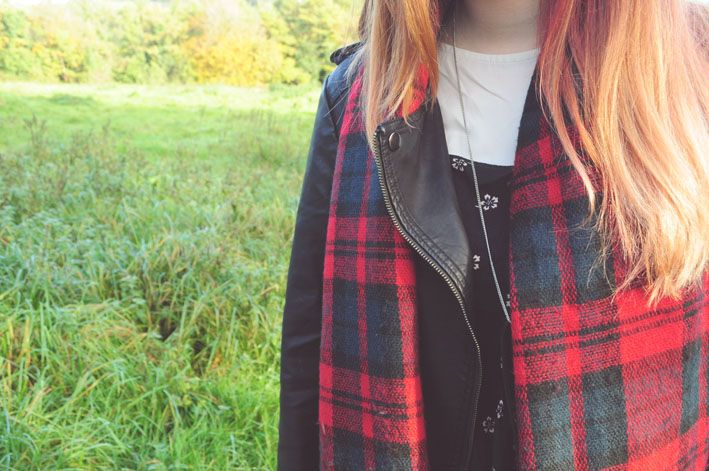 Tartan Scarf
, Accessorize
Faux Leather Jacket (
similar
), F21
Boots, Primark
Rimmel nail varnish in 285 Style hunter
Rimmel Kate Moss
lipstick in 30
Autumn is my absolute favourite time of year. Which I like to mention quite a lot. I'd been curious about Leather jackets for a few years now, but didn't feel quite confident enough to get one, I worried that I might have looked a bit 'try hard' but I just thought 'sod it' if people don't think it doesn't suit me, it doesn't really matter, because
I
like it. And when I saw the reasonable price F21 were selling them for, I thought I might aswell! (Mine was less than £25) I love that it's a bit cropped, I think if it was any longer, it would look a bit awkward, especially on my body shape.
Literally as soon as we received this scarf in Accessorize I knew I was getting it. Tartan has been a big part in fashion for a while now, and again, it was something I had been putting off, I've also had my eye on
this
scarf, just waiting til pay day!
Sorry about how gross my boots look in this last picture, but you know, boots are made for wearing outside, and fields aren't clean. These are extremely comfy, a lot of people assume that because they're chunky that they wouldn't be easy to walk in, but they are an absolute dream! And I just think they're beautiful!
Sorry, I don't think stores actually sell this nail polish anymore (my bad) but I've been really into this colour recently, I don't even think I bought it, I'm sure I received it in a goody bag one year at Clothes Show Live. But it's a nice shade, it's an all rounder one I think, not too dark for Spring/Summer but not too bright for Autumn/Winter, just a nice muted shade.
I just absolutely love Rimmel lipsticks, I always find myself reaching for a Rimmel lipstick all year round. This one is a bit more darker in real life, but why I like it, is because it's not as dramatic and dark as most of my Autumny shades, it's quite subtle, but still has that bit of Autumn about it.
These are my Autumn Essentials this year, what are yours?
Zelà♥